Article information
Abstract
Full Text
Bibliography
Download PDF
Statistics
Tables (4)
Table 2. Prevalence of Autoantibodies in Patients With Juvenile SLE Compared to Adult SLE.
Table 3. Prevalence of Other Autoantibodies in Patients With Positive and Negative Anti-P Ribosomal Antibodies.
Table 4. Differences in Clinical Manifestations Between Positive and Negative Anti-P Ribosomal Antibody-Patients.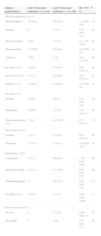 Abstract
Objective
To investigate the prevalence and associations with clinical manifestations of anti-P ribosomal antibodies in patients with juvenile-onset and adult-onset systemic lupus erythematosus (SLE).
Methods
Clinical and serological data of 30 patients with juvenile-onset SLE (age at onset younger than 16 years) were compared with data of 92 patients with adult-onset SLE. Symptoms occurring during the entire disease course were considered. Anti-P ribosomal antibodies were tested by ELISA.
Results
Anti-P ribosomal antibodies were found significantly more often in pediatric-onset SLE patients (26.7% vs 6.5%; OR=5.21 [95% CI=1.6–16.5], P=.003). Alopecia (OR=10.11, 95% CI=1.25–97) and skin rash (non-discoid) (OR=4.1, 95% CI=1.25–13.89) were significantly associated with anti-P ribosomal antibodies.
Conclusion
Anti-ribosomal P antibodies are more often found in patients with juvenile SLE. Alopecia and skin rash were the only clinical manifestations associated to anti-ribosomal P antibodies.
Keywords:
Systemic lupus erythematosus
Anti-P ribosomal
Resumen
Objetivo
Determinar la prevalencia y correlación clínica de los anticuerpos antirribosomal P en lupus eritematoso sistémico (LES) juvenil y compararlos con LES del adulto.
Métodos
Se incluyeron en el estudio 30 pacientes con LES juvenil y 92 pacientes con LES del adulto. Consideramos LES de comienzo juvenil a todos aquellos pacientes que comenzaron su enfermedad antes de los 16 años. Se consideraron las manifestaciones clínicas y serológicas que presentaron los pacientes desde el diagnóstico hasta el momento de inclusión en el estudio (manifestaciones acumuladas). El anticuerpo antirribosomal P fue evaluado mediante la técnica de enzimo-inmunoensayo (ELISA).
Resultados
La presencia de antirribosomal P fue significativamente mayor en el grupo de pacientes con LES juvenil comparado con LES del adulto (26,7% vs. 6,5%; OR=5.21 [95% CI=1,6–16,5], p=0,003). La alopecía (OR=10,11; 95% CI=1,25–97) y rash cutáneo (no discoide) (OR=4,1; 95% CI=1,25–13,89) fueron las únicas manifestaciones clínicas que se asociaron en forma estadísticamente significativa con la presencia del anticuerpo antirribosomal P.
Conclusión
Este estudio confirma una mayor prevalencia de anticuerpos antirribosomal P en pacientes con LES juvenil. La alopecia y el rash cutáneo fueros las únicas manifestaciones clínicas asociadas a la presencia de antirribosomal P.
Palabras clave:
Lupus eritematoso sistémico
Lupus juvenil
Antirribosomal P
Article
These are the options to access the full texts of the publication Reumatología Clínica (English Edition)