Full Text
Dear Editor,
We submitted information for a woman of 43 years, with a medical history of systemic arterial hypertension secondary to bilateral stenosis of renal arteries (Fig. 1A) and cerebral ischaemic attack due to dissection of left carotid artery (Fig. 1B). She was sent for assessment due to effort angina. Coronary catheterization showed proximal occlusion of the anterior descending artery (Fig. 1C) with collateral flow from the right coronary artery (Fig. 1D). Aortography of supra-aortic trunks was normal. There was no evidence of anaemia, thrombocytopenia, or alterations in acute phase reactants or autoimmunity.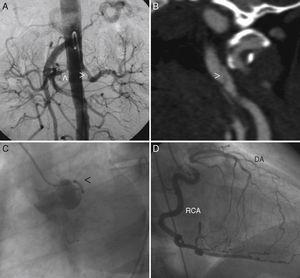 Fig. 1.
(A) Abdominal aortography evidencing proximal stenosis at both renal arteries level (arrowhead). (B) Angiography by computed tomography where it is possible to observe left carotid artery dissection (arrowhead). (C) Left coronary catheterization (left anterior oblique) where only a poor-developed circumflex artery can be seen (arrowhead). (D) Right coronary catheterization (left anterior oblique) that evidences a dominant right coronary artery (RCA) that fills for collateral circulation of descending artery (DA), which is occluded at proximal level.
(0.17MB).
Coronary disease in patients younger than 45 years can be classified into atheromatous, non-atheromatous, hypercoagulability states or due to drug consumption. Even though atheromatosis is the most frequent cause, within non-atheromatous we can find congenital coronary anomalies, myocardium bridges, septic and paradoxical embolism, spontaneous coronary dissection or peripartum, vasculitis and fibromuscular dysplasia (FMD).1
FMD is an idiopathic disease, non-atherosclerotic and non-inflammatory, that affects small-medium size arteries, especially internal carotid arteries and renal arteries. Its presentation might be subclinical or be related with the involved arterial segment, the degree of stenosis and the type of FMD. Even though FMD may also affect other arteries (celiac, mesenteric, hepatic, splenic or pelvic), coronary involvement is rare2; it mainly disturbs the middle/distal third of the anterior descending artery as focal stenosis, occlusion, dissection or severe artery tortuosity.3,4 However, the diagnosis, at a coronary level, can go unnoticed because the typical "beaded" image is not frequent.5
As regards differential diagnosis, atherosclerosis generally affects elderly patients with cardiovascular risk factors, while FMD mostly affects young patients with or without cardiovascular risk factors. FMD, unlike vasculitis, is a non-inflammatory process, without anaemia, thrombocytopenia or an increase in acute phase reactants if we exclude myocardial acute postinfarction period. However, we must take into account that even 40% of patients with big vessels vasculitis do not show acute phase reactants disorders.6 Therefore, the differential diagnosis between vasculitis and FMD can be difficult, due to the absence of histology confirmation2 because angiographical findings can be similar. This is the case of Takayasu's arteritis, a progressive autoimmune and idiopathic disease, that generally affects young adults and involves the aorta and its main branches (when coronary disease occurs in a context of aortitis or coronary arteritis7), or giant cells arteritis, which usually affects extracranial arteries (including the aorta and coronary arteries) in patients over 50 years.8
Even though coronary catheterization findings could overlap atherosclerosis findings, we consider that, given her age, the existence of 2 affected vascular areas (renal and carotid)4 and the absence of a family medical history of ischaemic heart disease and cardiovascular risk factors, the patient does not present an atherosclerotic process. Moreover, absence of overlapping inflammatory or clinical data rules out a vasculitic process.
The concept that FMD is an infrequent disease means that it is rarely included in a differential diagnosis of vascular diseases. This leads to delayed diagnosis and treatment and, therefore, a worse prognosis due to ill-controlled arterial hypertension, cerebrovascular accidents, aortic aneurysms/ruptures and coronary disease.
Please cite this article as: Martínez-Quintana E, Rodríguez-González F. Displasia fibromuscular y enfermedad coronaria. Reumatol Clin. 2015;11:264–265.
Copyright © 2014. Elsevier España, S.L.U.. All rights reserved