Abstract
Tophaceous deposits in lumbar spine are considered a rare condition. We report the case of a 44-year-old patient with low back pain and radiculopathy. Radiographs revealed lytic spondylolisthesis in L5. Magnetic resonance imaging showed hypointense signal on T1 and a heterogeneous signal on T2 located in the L4-L5 interspinous space and in the left facet joint that invades left neuroforamen. The left knee ultrasound showed "double contour" of the medial femoral condyle. Decompressive laminectomy with arthrodesis at the level of L5-S1 was performed. The histological examination revealed amorphous material with a foreign body giant cell reaction.
Keywords:
Tophaceous gout
Lumbar spine
Radiculopathy
Resumen
Los depósitos de tofos en columna lumbar son una condición rara. Presentamos el caso de un varón de 44 años con dolor lumbar y radiculopatía. Las radiografías mostraron espondilolistesis lítica de L5, la resonancia magnética (RM) imagen hipointensa en T1 y heterogénea en T2 localizado en el espacio interespinoso L4-L5 y en articulación facetaria izquierda que invade el neuroforamen izquierdo. El ultrasonido de rodilla izquierda (RI) evidenció «doble contorno» del cóndilo femoral medial. Se realizó laminectomía descompresiva y artrodesis de L5-S1, el estudio histopatológico reportó material amorfo con reacción de células gigantes multinucleadas de tipo a cuerpo extraño.
Palabras clave:
Gota tofácea
Columna lumbar
Radiculopatía
Full Text
Introduction
Gout is a metabolic disease resulting from the deposit of monosodium urate crystals (MUC) in the tissues. Untreated disease progresses to the destruction of the joints with the formation of tophi. Involvement of the spinal cord is extremely rare. We present the case of a patient with chronic low back pain and left radiculopathy with no previous history of gout in whom the histopathological finding was compatible with gouty tophus, establishing a diagnosis of tophaceous gout in the lumbar spine.
Clinical case
A 44-year-old male, attending hospital due to low back pain. One year earlier he experienced onset of progressive low back pain irradiating to the left pelvic limb. Six months earlier he presented sudden onset left knee arthritis, which remitted with anti-inflammatory drugs. The patient was hospitalised, physical examination found independent gait, guarding, claudication, decreased spinal mobility due to pain, positive Lasègue and Bragard, hypoaesthesia in L5-S1 dermatome, and RI with joint effusion. Blood biometry, urinalysis, erythrocyte sedimentation rate and C-reactive protein with normal parameters, serum uric acid of 11.8mg/dl and uric acid in 24h urine test: 560mg. X-ray with lytic spondylolisthesis of L5, on magnetic resonance imaging (MRI) hypointense signal in T1 and heterogeneous in T2 located in the L4-L5 interspinous space, and in the left facet joint invading the neuroforamen with bilateral lysis of the interarticular pars (Fig. 1). Ultrasound of the left knee showed "double contour" of the cartilage of the medial femoral condyle (Fig. 2A) and thick-walled Baker's cyst with hyperechoic stippling in its interior (Fig. 2B). Laminectomy, L5 radicular release, L5-S1 transpedicular fixation and postero-lateral arthrodesis. The histopathological study of the material removed by surgery reported amorphous amphophilic acellular material comprising epithelioid histiocytes fusing their cytoplasms together to form foreign body multinucleated giant cells (Fig. 2C).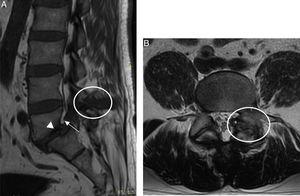 Fig. 1.
MRI lumbosacral spine (A) Sagittal plane in T1 with hypointense image in L4-L5 interspinous space (circle) invading the neuroforamen (arrow) and spondylolisthesis of L5 (arrow head). (B) Axial plane in T2 with heterogeneous image in left facet joint with bilateral lysis of the interarticular pars (circle).
(0.2MB).
Fig. 2.
(A) Double contour image of the femoral cartilage (arrows). (B) Thick-walled Baker's cyst (circle) with hyperechoic stippling in its interior (arrow heads). (C) Acellular amorphous amphiphilic material (star) bordered by epithelioid histiocytes (double arrow) and multinucleated giant cells (arrow) phagocyting this material.
(0.49MB).
Discussion
Tophaceous gout in the lumbar spine is rare. All the segments of the spine can be affected by gout, however most gouty tophi are located in the lumbar spine, especially in the L4-L5 region.1
Tophus is a chronic manifestation of gout, its presence indicates that the patient has had at least one disease of 5 years of evolution with no medical treatment.2 The physiopathological mechanism of spinal gout has been associated with poor vascularity, providing an optimal microenvironment for tophus formation. This condition can be the consequence of several factors such as a hyperlipidaemic state, obesity or low physical activity, since the small vessels of the axial skeleton do not have the capacity to adequately filter the uric acid load deposited in this area; likewise the presence of degenerative disc disease also creates a favourable microenvironment for deposit of crystals and tophus formation.3,4
Conclusion
The patient was diagnosed with low back pain and lytic spondylolisthesis, however, the histopathological result of the tissue studied showed findings consistent with gouty tophus in the lumbar spine. The definitive diagnosis of tophaceous gout relies on demonstrating MSU obtained by guided biopsy or surgery. In this clinical case due to the processing of the surgical material, the crystals were not visible. However, the histopathological finding of amorphous material with multinucleated giant cells reacting to a foreign body is consistent with gouty tophus. Surgical treatment is diagnostic and therapeutic and should be considered in patients with neurological impairment.5–7
Presentation of this clinical case ensures a possible diagnosis of spinal tophaceous gout is considered in a patient diagnosed with gout.
Conflict of interests
The authors have no conflict of interest to declare.
Please cite this article as: Duarte-Salazar C, Marín-Arriaga N, Ventura-Ríos L, Alpízar-Aguirre A, Pichardo-Bahena R, Arellano Hernández A. Gota tofácea en la columna lumbar causando radiculopatía. Reumatol Clin. 2020;16:410–412.