Full Text
Pyomyositis is an acute bacterial infection of the striated muscle which is occasionally accompanied by the formation of abcesses1 not secondary to adjacent infection of the skin or bone. Its association with septic arthritis is exceptional.
We present the case of a two-year-old child with no remarkable medical history who presented with left gonalgia of major functional limitation of 20 days onset, who was stated to have suffered trauma and a catarrhal process the previous week.
Examination revealed fever and swelling of the left knee. Arthrocentesis was performed with the obtainment of 10cc of synovial fluid of purulent appearance (46,830/mm3 leukocytes, 91% PML, glucose 47mg/dl and culture both for bacteria, fungus and mycobacteria testing negative). Haemogram tests, biochemistry, chest X-ray and haemocultures were normal or negative.
MR of the left knee was performed (Fig. 1) which revealed synovitis and an extensive hyperintense imaging in the STIR sequences with homogeneic enhancement after the administration of intravenous contrast (IVC) in internal and external vessel, compatible with pyomyositis.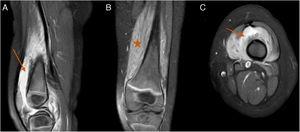 Fig. 1.
MR imaging of the left knee, STIR sequences with intravenous contrast (IVC). (A) Sagittal slice. (B) Coronal slice. (C) Transversal slice. Major synovitis is observed which affects the suprapatellar bursa (arrows) and muscular hyperintensity of the internal and external vastus lateralis muscles. Compatible with pyomyositis (star).
(0.14MB).
Antibiotic treatment was initiated with endovenous cloxacillin and cefotaxime with progressive improvement of clinical and radiological symptoms (Fig. 2).
Pyomyositis in immunocompetent individuals is typical in tropical areas, with the most frequent microorganism being Staphylococcus aureus (70%–90%).1 In our environment it is unusual, and may be suspected in the light of a background of trauma, intensive physical exercise or chronic diseases (such as diabetes mellitus or neoplasms),2,3 with positivity in cultures being almost exceptional (5%–33%).4 It is more common when affecting large sized muscles.4 Diagnosis timing conditions prognosis since this is usually withheld due to low suspicion.4 Imaging tests are essential, with MR being the technique with the highest sensitivity and specificity for the identification of early forms.5 Intensive early antibiotic treatment reduces physical sequelae.1,5
Conflict of interests
The authors have no conflict of interests to declare.
Please cite this article as: Brandy-García AM, Clemente Garulo D, López Robledillo JC. Artritis séptica como forma de inicio de una piomiositis. Reumatol Clin. 2020;16:247–248.
Copyright © 2018. Elsevier España, S.L.U. and Sociedad Española de Reumatología y Colegio Mexicano de Reumatología